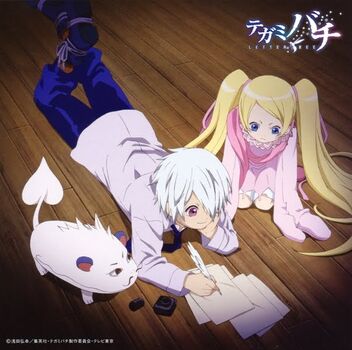 Apparently abandoned by his mother, orphan Lag Seeing is taken as a "letter" by "Letter Bee" Gauche Suede to a town where his aunt raises him. His affection and admiration for Gauche give Lag the ambition to become a Letter Bee himself, carrying mail through the dangerous wasteland between towns on his world. When he becomes a teenager, he makes the trip to the capital to take the examination to become a trainee Letter Bee. En route, he meets the strange, powerful girl-like creature Niche, who becomes his "dingo," a Letter Bee's travelling companion. Lag yearns to find his mother, and discover why she abandoned him, if she did.
main characters
Edit
lag seeig
zazie
connor
niche
gauche
official site
Edit
tv-tokyo.co.jp/anime/tegamibachi
characters
Edit
Ad blocker interference detected!
Wikia is a free-to-use site that makes money from advertising. We have a modified experience for viewers using ad blockers

Wikia is not accessible if you've made further modifications. Remove the custom ad blocker rule(s) and the page will load as expected.