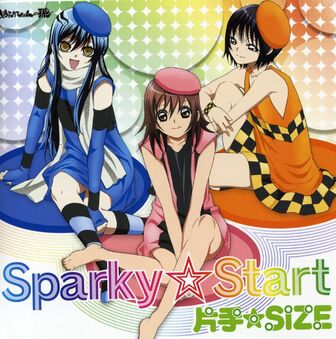 mukaikaze fuku
issunsaki yosou mo dekinai isshinfuran kimi ni tsuiteku ichigoichie no takara o mezashite
ashi ga furuete mo tomaranai mune no takanari zenjinmitou tabi wa itsu demo zenshinzenrei enjin zenkai
zettai kimi o mamoru donna risuku ga aru to shite mo "zettai" nanka nai sa chikara o tsukusou omoikiri suikonda hateshinai sekai
Start the space-time trip! bouenkyou nozokeba karisumatikku na yami uneru nami no rabirinsu Never stop! yuuhei sareta hoshi o tokihanatsu tame kimi to tabidatou tsuki ga asu e michibiku
sotto nozokikonda dangai me mabushisou ni naru zendaimimon kimi no ashiato doko ni kieta no? touzainanboku
chiisana suishoudama ni tazunete mo kotae wa nai mikkamiban mo kimi o matenai isshindoutai see you someday!
dandan chikazuiteru mezameru dairokkan no kioku dondon tobira hirake unmei wa mikata sa kimi ga itta aikotoba "jibun o shinjite"
Spark your soul right now! yogensha mo shiranai senseishon makiokoshite taikikengai e focus Follow me! meishin nante hikari kakusu kumo da yo mimi o sumasereba kibou no uta ga kikoeru
zettai akiramenai konna kimochi wa hajimete na nda dondon tsuyoku nareru kimi ga oshietekureta omoikiri suikonda hateshinai sekai
Start the space-time trip! sanbyakurokujuudo karisumatikku na yami uneru nami no rabirinsu Never stop! yuuhei sareta hoshi ga ima habataite kimi to miagereba arata na story hajimaru mirai o egake kono te de
Ad blocker interference detected!
Wikia is a free-to-use site that makes money from advertising. We have a modified experience for viewers using ad blockers

Wikia is not accessible if you've made further modifications. Remove the custom ad blocker rule(s) and the page will load as expected.