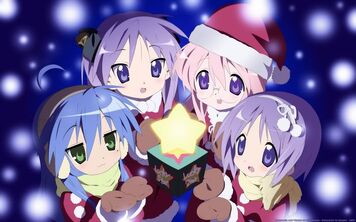 Lucky Star is a Slice Of Life manga by Kagami Yoshimizu, featuring four high school girls. The main focus is Konata Izumi, an Otaku Surrogate whose Japanese pop culture knowledge is truly staggering. Drawing on a huge number of Otaku references, Lucky Star is more or less a show about nothing in particular. Notable for being the largest example of the Puni Plush style and its rather eccentric fanbase.
main characters
Edit
konata izumi
kagami hiiragi
tsukasa hiiragi
miyuki takara
official website
Edit
characters
Edit
Ad blocker interference detected!
Wikia is a free-to-use site that makes money from advertising. We have a modified experience for viewers using ad blockers

Wikia is not accessible if you've made further modifications. Remove the custom ad blocker rule(s) and the page will load as expected.