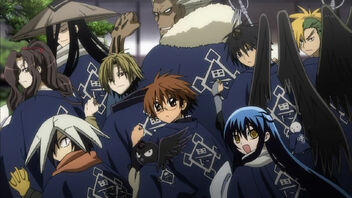 The manga is about Rikuo Nura, a kid that is 3/4 human and 1/4 youkai. He lives in a house full of spirits alongside his grandfather who is the leader of the youkai. Rikuo is destined to take over his grandfather leadership but his human side has no interest. Rikuo is just a normal kid who has no interest to become the leader of youkai. (Source:
wikipedia
)
main characters
Edit
rikuo nura
yuki onna/tsurara oikawa
aotabo
kurotabo
kubinashi
kejoro
kappa
kana ienaga
yura keikain
more...
official site
Edit
characters
Edit
Ad blocker interference detected!
Wikia is a free-to-use site that makes money from advertising. We have a modified experience for viewers using ad blockers

Wikia is not accessible if you've made further modifications. Remove the custom ad blocker rule(s) and the page will load as expected.