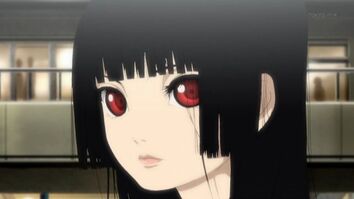 Ai Enma once again returns as the Jigoku Shoujo, who uses Jigoku Tsuushin (Hell Hotline) to allow people to post their grudges on their tormentors, sending them straight to Hell. In exchange, the users of the website will end up in Hell after they die. Meanwhile, a mysterious girl with purple eyes called Kikuri appears and seems to have strange intentions towards Ai and Jigoku Tsuushin's operation.
main characters
Edit
ai enma
hone onna
ren
wanyuudou
kikuri
official site
Edit
characters
Edit
Ad blocker interference detected!
Wikia is a free-to-use site that makes money from advertising. We have a modified experience for viewers using ad blockers

Wikia is not accessible if you've made further modifications. Remove the custom ad blocker rule(s) and the page will load as expected.