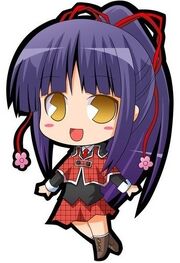 You could've said a word but you turned away
Why do you always act such a passive way? Now don't you ever think that I would suck up to you But I still believe in you
hisoyaka ni kurasu kyojintachi todokanai todokanai itsudemo
tobira wo shimeteshimau koukei toomawari toomawari itsudemo
koushite hibi ga tatsu keredo ookina janpu mo sezu ni anata wa koko de nani o shiteru no? aogi aogare dokomademo

jounetsu wa taete wa ikenai taiyou no shita demo keikoutou no shita demo aojiroku hieru kanjou terashite terashite sono hikari de koushite hibi ga tatsu keredo ookina janpu mo sezu ni anata wa koko de nani wo shiteru no? aogi aogare dokomademo

iradachi no hazama ni aru taiman na karada yukkuri to okiagaru
gensou dake de wa mou imi ga nai kuukyo na jikan wa aozora e
sukui you no nai mizu no naka de gooru made tadoritsuketara...
koushite hibi wa tatsu keredo ookina janpu mo sezu ni anata wa koko de nani wo shiteru no? aogi aogare dokomademo
I'm just waiting for you to stand up to it What are you waiting for?
You could've said a word but you turned away Why do you always act such a passive way? Now don't you ever think that I would suck up to you But I still believe in you
Ad blocker interference detected!
Wikia is a free-to-use site that makes money from advertising. We have a modified experience for viewers using ad blockers

Wikia is not accessible if you've made further modifications. Remove the custom ad blocker rule(s) and the page will load as expected.